Health and wellness is a significant trend in the current world.
More people are embracing healthier lifestyles, which include a variety of dietary changes.
If you are among the category that decided to forgo animal meats and products, you may continuously search for plant-based recipes to add to your meal plan, such as a DIY Vegan Coleslaw.
Coleslaw, a savory side dish known worldwide, is a type of salad made of shredded cabbage and other condiments. It features prevalently in vegan dishes worldwide in several variations.
The most significant reason behind its popularity is due to the versatility factor. You can DIY Vegan Coleslaw to suit your taste buds, health goals, and budget.
However, before you delve into making a vegan coleslaw, here is the definition of coleslaw and its uses.
What is coleslaw?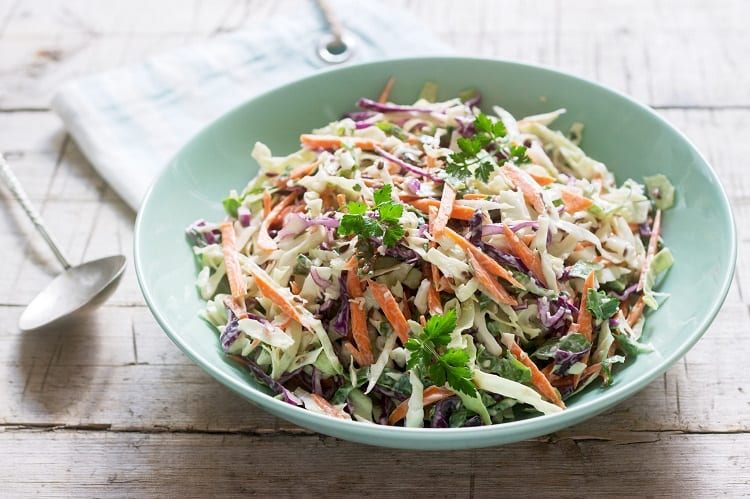 You might have seen a coleslaw salad at some point, but what exactly is it?
The first recorded mention of this dish is in a 1770 recipe book from the Netherlands. The preparation method is attributed to a landlady of Dutch origin.
It consisted of cabbage strips as the main ingredient and other simple components like oil, butter, and vinegar. It wasn't until later when mayonnaise was introduced as an ingredient following its advent in the 18th century.
Even the name is of Danish heritage, and it's derived from koolsla. A term that translates literally to cabbage (kool) salad (sla). It was introduced to the United States by settlers from The Netherlands.
However, there is mention of coleslaw in ancient cookbooks from Roman sculleries where mayonnaise was substituted with hard-boiled eggs, oil, and a salty broth.
You may find cold slaw instead of coleslaw in some U.S restaurant menus, which is a misnomer. The confusion arose because the salad is often served cold, but this term failed to take hold. Hence the Anglicized name – coleslaw.
Typically, coleslaw is a salad that comprises mostly shredded cabbage and mixed with various added ingredients and a type of dressing. The savoy and white cabbages are mainly used for such salads, but other variations exist as well.
In certain parts of the world, veggies like cucumbers, kohlrabi, radicchio, and carrots are used as the base ingredient.
Although we are used to sights of creamy and cheese-laden coleslaws, it is possible to create a DIY Vegan Coleslaw. All you have to do differently is alter the ingredients and switch to a healthier dressing.
Through time and space, the method of making coleslaw has gone through geographical and cultural transitions. If you walk into most food joints, you are sure to see various culinary takes of this unique dish.
And now we even have DIY Vegan Coleslaw that you can make by yourself at home. The inclusion of varying ingredients is what causes this distinction. You will find additions like onions, carrots, and bell peppers.
Nowadays, adding some types of fruits is becoming popular. If you have never seen one, the next time you visit your favorite restaurant, order for a coleslaw salad with apples or pineapple (or make it at home as a DIY Vegan Coleslaw).
Non-vegan varieties may contain cheese and cream or mayonnaise as the dressing.
How Coleslaw Is Used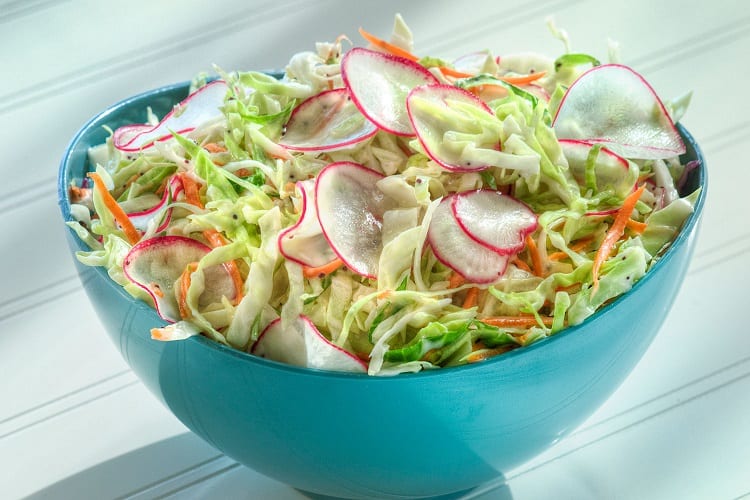 A large portion of the global population does not meet the daily recommended intake of vegetables.
Coleslaw is majorly a vegetable-based salad, even when animal products like bacon and eggs are incorporated. It is, therefore, a simple dish that can help you achieve the advised daily amount.
Coleslaw is typically served as an accompaniment to a main dish or the entree. However, regional and cultural elements influence how it is currently used. As mentioned earlier, coleslaw is exceptionally versatile.
You can alternate the ingredients or dressing mixture to come up with different versions threat you can use in several ways, including:
Side dish – Serve coleslaw alongside main meals like barbecue tofu to make the course more decadent.
Chopped salad – Commonly referred to as just slaw. It is made from shredded raw veggies, mixed with a dressing like lemon juice, and served as an entree or main dish.
Topping – Ever heard of slaw chili dogs or tofu tacos? Coleslaw is used to garnish some popular vegan and non-vegan dishes.
Filling – You may also use coleslaw to add fantastic flavor to meals or snacks. You can use leftovers to make veggie egg rolls, sliders, or a sandwich.
Stir-fry or steam leftover vegetable coleslaw to create an entirely new vegan dish.
How to Pick the Right Vegan Products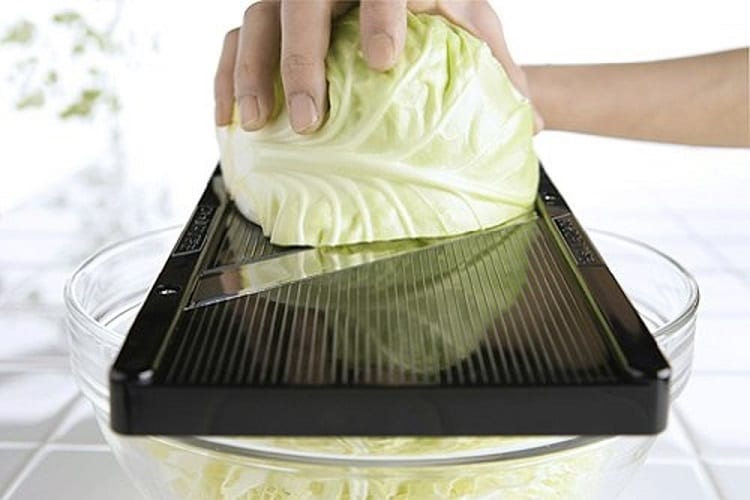 Due to the increase in vegan-trend consumer behavior, many manufacturers and retailers have invested in creating and selling vegan-inspired products. There are more vegan alternative foods available in the market.
However, not all companies are legitimate in their claims. There are instances where the public has been made aware of a brand that illegitimately labels their products as suitable for vegans, but the items are not as advertised in the real sense.
They may be processed or contain animal by-products, which beats the whole essence of vegan labeling.
Ignorance isn't bliss. You cannot claim a lack of awareness for consumer goods that aren't 100% vegan-friendly.
But how do you ascertain that you are picking the right vegan products for your DIY Vegan Coleslaw dish? Here are a few tips to guide you through the process next time you go shopping.
Scan the packaging
Before you pick a packaged product, assess the labeling. What does it say? Does it have a logo signifying its suitability for vegans?
Ensure there is a declaration on the packaging such as 'Certified Vegan' or a 'Suitable for Vegans' logo.
Go the extra mile and check the ingredients list or allergen information. It will be listed if the product contains things like milk and eggs. Remember, some animal by-products may be listed in an alternate or scientific name.
Check the fine print and prices
If you are shopping online, read the fine print on the description page. Inquire whenever you are unsure. If it is a grocery store, check the vegan section, or ask the attendant to clarify.
Also, compare the prices to ascertain the legitimacy of the products. Beware of too low costs as they may be counterfeit or low-quality.
Use an app
Thanks to technological innovation in the food industry, you can access a mobile phone app to find vegan meals and products. Consumers are utilizing personal devices to shop more than before.
Smartphone apps like HappyCow help you locate vegan dishes wherever you are. Others like Bunny Free or the iOS app, PETA, evaluate the manufacturing process to determine if the products were tested on animals.
How to Make Vegan Coleslaw
You can order vegan-inspired coleslaw from your local store, restaurant, fast food joint, or with your take-out.
However, you can never be too sure if it is indeed vegan. And with the Coronavirus pandemic abound, you have to be extra careful when purchasing from outside sources.
Can you guarantee that all hygiene standards were observed?
Due to the virus's uncertain nature, increasingly more people are making a preference for home-made meals, thus pursuing the best DIY Vegan Coleslaw recipes.
Below are the steps on how to make an easy vegan coleslaw dish:
#1 Purchase the necessary ingredients
Make a list of everything you will need to guide your shopping. Some vegan products are quite expensive, therefore, include an estimate to ensure you don't overspend.
#2 Prepare the veggies
Shred the cabbage by hand and chop the other condiments in your preferred way.
#3 Assemble
In a bowl, mix the components, pour the dressing on top, and toss to combine. Season as you mix with salt and pepper.
The internet is awash with DIY Vegan Coleslaw recipes that you can use. Step out of your comfort zone and try something new.
Thus, for a detoxifying variety, try an Asian coleslaw. It includes julienned or shredded napa cabbage, red cabbage, carrots, daikon radish, and sesame seeds.
The tangy dressing may vary depending on personal taste but typically consists of freshly-squeezed lemon juice, ginger, sesame oil, olive oil, and honey. If you prefer the heat, opt for spicy vegan recipes like lime and jalapeno coleslaw.
Conclusion
When it comes to making a DIY Vegan Coleslaw, let innovation and creativity guide you. There are hundreds of possibilities. Only your imagination limits you.
It is possible to create a unique version of the traditional dish with the right vegan products. Do you have a DIY Vegan Coleslaw recipe?
Kindly share it or leave a link in the comments section below.