Being vegan opens you up to explore a rich world with plant life and all its benefits. However, vegans and non-vegans luckily don't have to resort to their own devices for skincare.
The experts have done their research and create the best vegan skincare products to nurture the outside of your body, just as a plant-based diet boosts you from the inside.
A quick peek at our Buying Guide for 2021 lets you in on the best vegan beauty products to help you live your anti-cruelty principles to the fullest—supporting beauty at its best.
Best Vegan Skincare Products – Reviews & Buying guide for 2021
Best overall: Aztec Secret Indian Healing Clay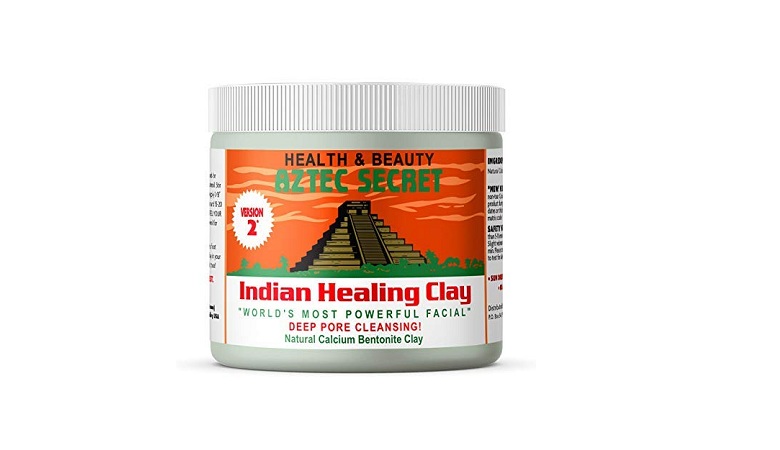 Our best vegan skincare winning product is Aztec Secret. This is a unique Indian healing clay that is perfect for a deep pore cleanse that you can use for your face and body.
This product is a natural bentonite clay available in 1 or 2 lbs.
If you want the ultimate home spa experience, this clay is as good as a healing mud bath. Spoiling yourself with this vegan cruelty-free skincare product will give you a refreshing, youthful experience.
Our pros and cons explain why Aztec Secret is our winner as the best vegan skincare product.
Pros
100% natural, organic vegan skincare beauty product.
It gives your facial pores a deep cleanse, leaving your skin silky smooth.
This multipurpose cleanser can be used on your face, body, and hair.
Use as a hair mask, foot spa, clay bath, or full-body wrap.
This clay also works well as a natural underarm deodorant
It is also beneficial to chill and use as a soothing knee pack for aching joints.
Eliminate the pain and irritation of insect bites in minutes.
Suitable for all skin types and some skin redness and dryness is normal after use and will disappear in half an hour. Anyone with non-sensitive skin can leave their clay mask on for 20 minutes.
Combine the powder with apple cider vinegar for other health and beauty benefits. Apple cider vinegar creates a smother paste than water.
Ideal vegan skincare for acne when used regularly for a period.
Cons
Combine the clay with water instead of apple cider vinegar if you have sensitive skin.
Always do a test on your forearm before using the product anywhere else to check for sensitivity. If your skin is sensitive to this or any other vegan skincare products, you should immediately stop using them.
Only use as per instructions and leave on for between 5 and 10 minutes if your skin is sensitive. Leaving this product on for longer can cause redness and irritation to sensitive skin.
Minor skin discomfort and extreme tautness.
Runner Up: Andalou Naturals Night Repair Cream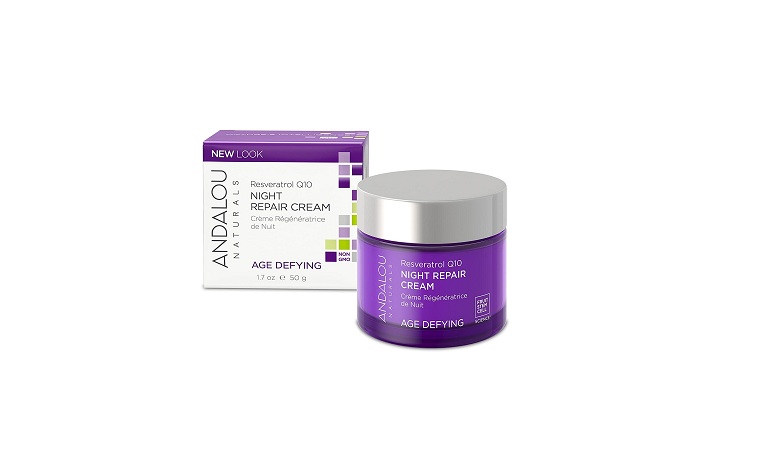 Andalou Naturals Resveratrol Q10 Night Repair Cream is a vegan anti-aging skincare product suitable for mature skin. Resveratrol is well-known for its anti-aging properties, as is Q10.
These ingredients are potent antioxidants that help repair the damage caused by free radicals.
If you are fond of the sun, smoke cigarettes, or your skin has undergone other forms of damage, Andalou naturals is one of the best vegan skincare products on the market.
We have chosen this repair cream specifically for its anti-aging properties as the first runner-up because it is a superior, organic vegan skincare product.
Pros
Perfect for use on dry skin where there are light wrinkles and fine lines.
Ideal for anyone whose skin is flaky or dull or is aging prematurely.
Produces youthful, gentler, smoother skin with frequent use.
Restores integrity of the skin to repair, revitalize and reduce damage.
Uses scientifically-backed stem cells from fruits for skin repair products.
All ingredients are organic and subscribe to the Superior Source Ingredient Standards.
Does not contain GMO ingredients or gluten-containing ingredients.
Subscribes to Fair Trade policies, and all ingredients are sustainably grown and cruelty-free.
Andalou is one of the best vegan skincare brands and is comparable to other vegan brands like Alba Botanica, Shea Moisture, Pacifica, Mineral Fusion, and similarly reputable vegan brands.
All Andalou products are BPA-free, and the contents are also free of sulfates and phthalates.
Cons
This product is a night cream. If you want to use it during the day, please also use sun protection.
Some customers complain of flaky, red skin after initially good results and that there is a no-refund policy for this product.
Other customers complain of product tampering and use before delivery.
Some customers note that they have received products past their sell-by dates and have wasted money because of the no-refund policy, which is a significant letdown.
Alternative: Bliss Glycolic Resurfacing Pads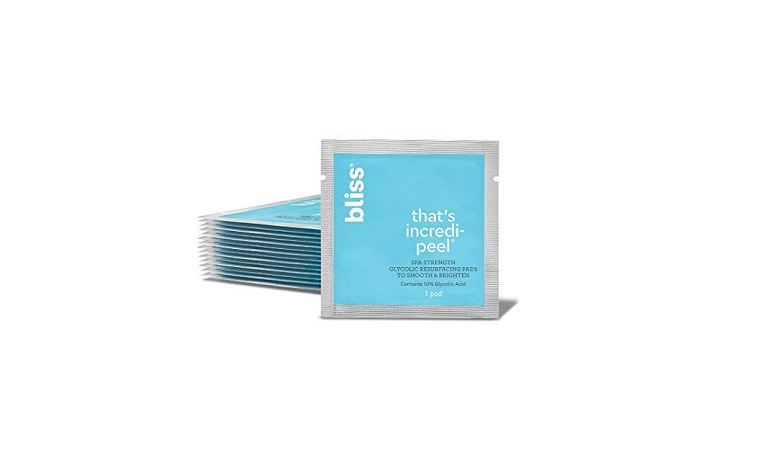 Bliss makes these incredible Incredi-peel Glycolic Resurfacing Pads to exfoliate and lift your skin condition in minutes.
Anyone with normal or combination skin can include this resurfacing pad in their vegan skincare routine with confidence, which is why it is our first alternative in five as the best vegan skincare product available.
Pros
Bliss Incredi-peel is one of those excellent vegan skincare products for acne. Customers with eczema confirm how their symptoms are relieved, and this peel reduces flakiness and dry skin. Simply wipe on your skin and leave it to dry or leave overnight for best results.
Customers also report how this glycolic acid peel evens their skin tone.
You can easily include this peel in your vegan makeup and skincare routine because it delivers desirable results.
Bliss peels will leave your skin feeling smooth and clear, but you should follow the acid peel with a nourishing moisturizer.
Some customers maintain that the product quality is as good as those available in professional spas.
This best vegan skincare product is certified by PETA and is free of nasty chemicals such as phthalate, parabens, SLES, SLS, and others harmful to you and nature.
Cons
Customers suggest that you do not use this product daily as it is an acid peel that contains AHA, which makes your skin sensitive and vulnerable to sun damage if you don't use proper protection.
Some individuals may experience red, sensitive skin after first-time use, but this generally improves with regular applications.
A customer complaint reveals that the peels did not contact her acne scars, so was useless for her purposes.
Alternative: Alba Botanica Very Emollient Body Lotion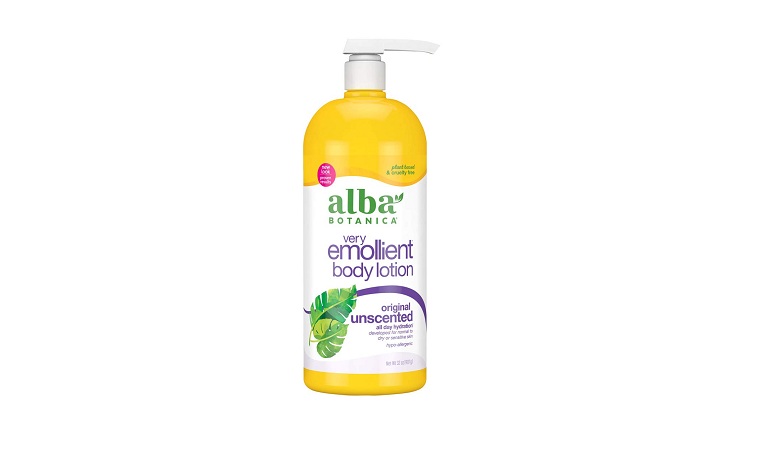 A whole-body emollient and moisturizing body lotion is a welcome addition to any vegan skincare routine, especially when it is one of the best vegan skincare brands on the market.
Alba Botanica is well-known for its range of vegan beauty products, and this one is a winner.
Get the original, unscented 32 oz. bottle or opt for the Coconut Rescue, Daily Shade SPF 15, Maximum, or Herbal Healing lotions. Our choice is the organic vegan skincare lotion in its original, unscented form.
Pros
This emollient lotion is 100% free of synthetic fragrances, parabens, and phthalates.
Only 100% organic vegan skincare ingredients go into this body lotion.
Includes natural nourishing plant oils such as jojoba, avocado, and shea butter.
This product is a suitably rich moisturizer for sensitive and dry skin.
Product ingredients reflect positive ratings on the EWG's skin deep database, ensuring that it is one of the best vegan skincare products out there.
Positive consumer remarks indicate that this lotion leaves their skin feeling well-nourished.
Cons
A niche group of customers does not like this lotion's smell, stating that it is unpleasant. Others maintain that the original, unperfumed cream has a delicate aroma which may prove unpleasant for anyone sensitive to odors.
Customers prefer the previous formula, which was lighter than the current thick, waxy one.
Because the lotion is thick, it can clog the pump, making it impossible to get the cream out without removing the pump function.
It contains AHA, which increases skin sensitivity. Increased sensitivity can cause sunburn despite wearing a sunblock.
It contains Avobenzone, linked with free radicals and skin cancer when exposed to the sun.
Alternative: ACURE Rejuvenating Night Cream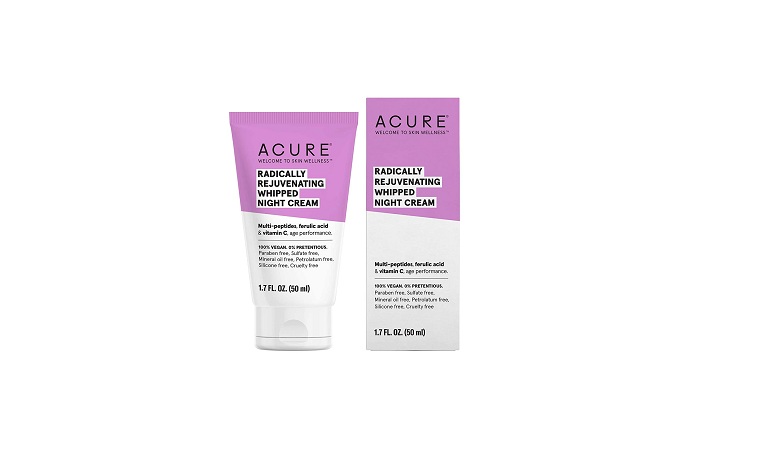 The third runner-up for the best vegan skincare product is ACURE's rejuvenating night cream.
A unique formulation of peptides, antioxidants, and natural plant materials makes this the best vegan anti-aging skincare choice for all skin types.
People with mature skins who want rejuvenation will appreciate lactic acid and vitamin C's lifting properties, which also hydrate your skin.
Pros
Dynamic anti-aging properties visibly rejuvenate skin with soothing glacial glycoproteins, ferulic acid, peptides, and vitamins.
Anti-cruelty certification and suitable for vegans.
Free of formaldehyde, petrolatum, sulfates, parabens, and mineral oil.
Contains healing properties for some skin types.
The product is not overly oily.
Produces a clear fresh complexion with regular use.
Excellent addition to a vegan skincare routine.
Cons
It contains AHA, which increases skin sensitivity and sun sensitivity, so this product is only suitable for night-time use.
Products quickly go bad, leaving some customers with the disappointing consequences of not being able to use this product.
Customers note that the formula has changed, which also causes disappointment with this product.
There is no return or refund policy for this product which is also a problem for customers who receive rancid products with unpleasant odors.
It causes skin breakouts for some customers and not others.
Vegan Skincare FAQ
Best vegan skincare products should leave your skin feeling as good as the brand suggests. People are often curious about other elements of the vegan lifestyle.
Some of the FAQs by customers relate to the best vegan skincare brands or what toothpastes are suitable for vegans.
Other questions may seem strange, like the pooping habits of vegans and whether vegans drink alcohol. Our FAQs section answers all these questions, which should clear up what involves living a fully vegan lifestyle.
What skincare brands are vegan?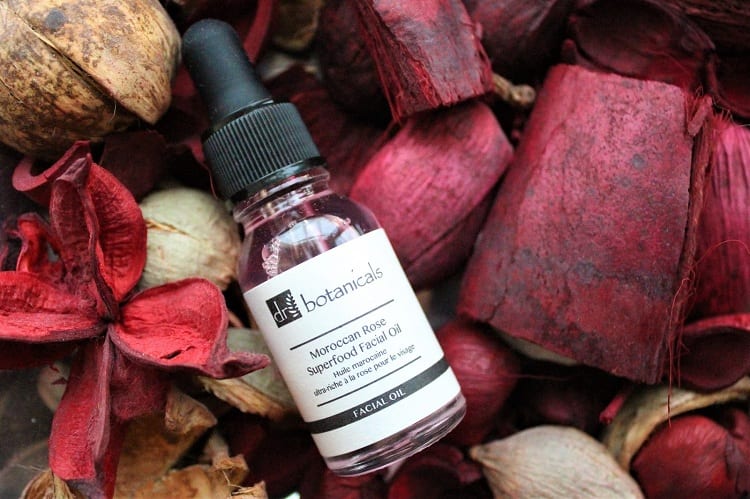 Vegans may come across a selection of anti-cruelty products on the market, but not all anti-cruelty skincare ranges are vegan. Anti-cruelty products do not involve harm to animals.
No animals are tested in laboratories to produce skincare and other products when they are anti-cruelty.
But the best vegan skincare brands contain zero animal products or byproducts and avoid any harm to animals. The only skin products that are genuinely vegan are plant-based and anti-cruelty, making for the best vegan skincare.
PETA has created a list of the best vegan skincare brands. Vegans can comfortably use these brands' products without needing to look at the ingredients.
PETA has already investigated these product ingredients and recommends them as being free of all animal ingredients and are therefore also cruelty-free.
Vegans and others can support these brands as they align with the vegan philosophy:
Beauty Without Cruelty
Spectrum Collections
7th Heaven
Arbonne
MuLondon Organic
Dr. Botanicals
Alchimie Forever
Nature's Gate
Pacifica
EcoTools
Billy Jealousy
The Fanciful Fox
Nanshy
skyn ICELAND
Per-fékt Beauty
Sibu Beauty
Sparitual
Even though this list may not be exhaustive, it is an excellent place to begin with a vegan makeup and skincare routine. There are many more vegan skincare brands to explore but always check for transparent labeling of ingredients before making a purchase.
Some brands may mistakenly or deliberately mislead unsuspecting customers into thinking their brand is suitable for vegans, only to find products contain beeswax or other animal byproducts.
Confirm the brand that you want to support carries completely vegan cruelty-free skincare products to avoid disappointment.
A strong indication of reputable vegan skincare products will ensure transparency regarding product ingredients.
If the brand is not forthcoming about this aspect, protect your values and move on to another. You shouldn't have to compromise your principles with fruitless guesswork about a brand's integrity.
What toothpastes are vegan?
Add a cruelty-free, fluoride-free toothpaste to your overall vegan skincare routine. Again, it is always necessary to read product labels. Go the extra mile and choose a zero-waste toothpaste brand that doesn't use plastic packaging.
Up your standards and eliminate those that use palm oil as this product destroys animal habitats when not sustainably sourced.
Use these toothpaste brands that are cruelty-free and don't use fluoride for a healthy smile:
If you cannot find any of these fluoride-free kinds of toothpaste, you can support a healthy anti-cruelty smile with Toms of Maine.
You will be supporting the environment more fully with these zero waste toothpaste brands without fluoride:
Or you can switch to a zero-waste toothpaste with fluoride:
Do vegans poop a lot?
Changing to a vegan diet can be one of the best things you do in this lifetime. However, this dietary change can be pretty startling as your digestive system suddenly begins to function at an optimum level.
You will also have more energy because your digestion improves drastically.
The entire reason for this improvement is that a plant-based diet is high in fiber which your body needs to process nutrients and eliminate waste. When beginning a vegan diet, you can expect three things to happen with your poop.
#1 Frequent pooping or constipation
Suddenly consuming more fiber can be quite a shock for your system. Your digestive system must quickly adjust to processing fiber-rich foods.
Add the obligatory 200 milliliters of water per 22 lbs. of body weight, and you could spend more time in the bathroom. While this may be quite a strange experience, your body is simply responding to a new diet.
Switching to a vegan diet can also have the opposite effect. You may experience constipation bouts in the beginning as your gut bacteria accommodate your new eating habits.
All of this is quite normal, and once you're accustomed to your new diet, you may find that you poop less and cleanly.
Your digestive system will only improve if you eat lots of fiber and drink plenty of water. If you don't, you will end up with constipation, which negates a healthier lifestyle.
#2 Odor and texture changes
Your poop will be more frequent initially, and your body may take a few weeks to a few months to settle down. Your gut bacteria are in turmoil during this adjustment as your body fights to achieve microbiome balance.
Consequently, the texture and odor of your poop will also change as your body rids itself of toxins.
A meat-based diet typically produces sticky poop, which disappears when you eat plants. In other words, plants are better for overall health and leave the body with less mess.
A fiber-rich diet is also known to reduce the risk of developing lifestyle diseases such as diabetes, high blood pressure, and heart problems.
#3 Normalization
After being on the vegan diet for weeks or months, your poop should normalize. One way to check your health is to check your poop's condition.
A quick look at the Bristol Stool Chart will give you an excellent idea of how your health is doing.
Can vegans drink alcohol?
Vegans can and do drink alcohol. Not all vegans are aware that the alcohol they imbibe is not always free of animal products.
Who knew that some of the liquid products made from potatoes, hops, sugar cane, grapes, juniper berries, and other plants also use animal products, though?
It is almost inconceivable that the manufacturing process of creating some alcoholic drinks does precisely that.
Here are just some of the animal products that companies use to make alcoholic beverages:
Egg whites
Fish bladders
Gelatin
Skim milk
Honey
Most of these ingredients are used as fining agents, and most people are unaware of them. Other alcoholic beverages contain dairy, such as creamy liqueurs.
Others also clearly use honey for flavoring. Both the cream and honey-based alcoholic beverages are easily recognizable and easily avoidable by vegans.
Vegans can safely drink hard spirits in the sure knowledge that they don't contain animal products or use animal fining agents.
When it comes to wine, it is a different story altogether. Fining agents or clarifying agents help clear the particles in wine that are a side-effect of the maturation process.
Winemakers use animal products to capture these particles to get them to market quicker. Wine can be left to clarify naturally, but this process is time-consuming, and time equals money lost.
The solution is to use animal products to refine the wine rapidly for sale, as the outcome is more palatable for consumers.
Clarifying agents (as mentioned) include using egg whites, casein protein from milk, skim milk, and fish bladders. Sourcing enough fish bladders, egg whites, or dairy products inevitably involves animal cruelty.
Therefore, none of these clarifying agents works for vegans, leaving them with no option but to imbibe wines that have gone through an organic clarifying process.
It may sound as if none of these animal products form part of your red, white, or rosé wines, but winemakers cannot guarantee that this is the case.
In other words, commercially produced bulk wine enterprises are not appropriate for vegan consumption. In contrast, vegans can drink organic wines because no animal byproducts can clarify these wines.
However, progress has been made. Some winemakers use activated charcoal or bentonite clay to filter their wines. Either they use these ingredients to clarify wine or allow the wine to filter naturally, which is good news for vegans.
Vegans can expect the same process with many beer brands. However, an in-depth search will reveal both wine and beer companies that omit entirely animal products from their alcoholic beverages.
It is up to vegans to research the alcohol they want to drink or abstain altogether if they're going to live in line with their philosophy.
Final Comments
You should be aware of ingredient labeling from the best vegan skincare to the best vegan skincare brands. Besides finding the best vegan beauty products, people are also curious about vegan habits and lifestyle choices.
Our Buying Guide also filled you in on vegan toothpaste, the pooping behaviors of vegans, and their drinking habits to get up to speed. All in all, we trust that our Buying Guide has been an illuminating, fun read.
Resources:
---