Everyone of us has his own reason for making the move towards a plant-based lifestyle, from health concerns, environmental protection to morality. Going vegan is fulfilling but it can also be overwhelming when it comes to cooking. If you are looking for some vegan recipe inspiration we rounded up some of the best plant-based cookbooks offering unique recipe ideas.
#1 Vegan, at Times
120+ Recipes for Every Day or Every So Often
by Jessica Seinfeld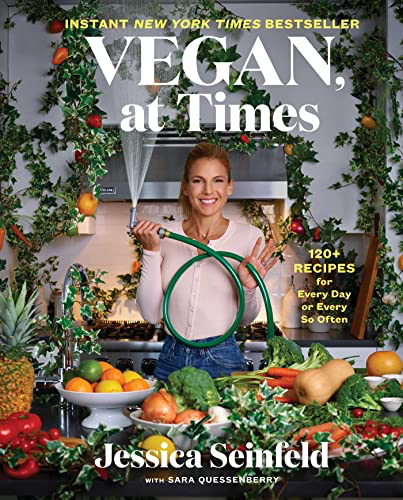 We love how Jessica encourages you to give vegan food a chance, whether that's every day, once a week, or just once in a while. With her step-by-step recipes she wants to show you how easy it is to be a vegan and teaches you how to cook flavorful, affordable, and robust plant-based meals whenever you feel like.
In her book she shares 120 recipes from sweet and savory breakfast, well balanced meals for lunch and dinner to tasty snacks that can be prepared in no time. However, she does not forget about the essential sauces as well as dressings, all customized to home chefs.
She gives a personal note to the book as she tells relatable stories from her adventures in vegan cooking with her family.
#2 The Complete Plant-Based Cookbook
500 Inspired, Flexible Recipes for Eating Well Without Meat
by America's Test Kitchen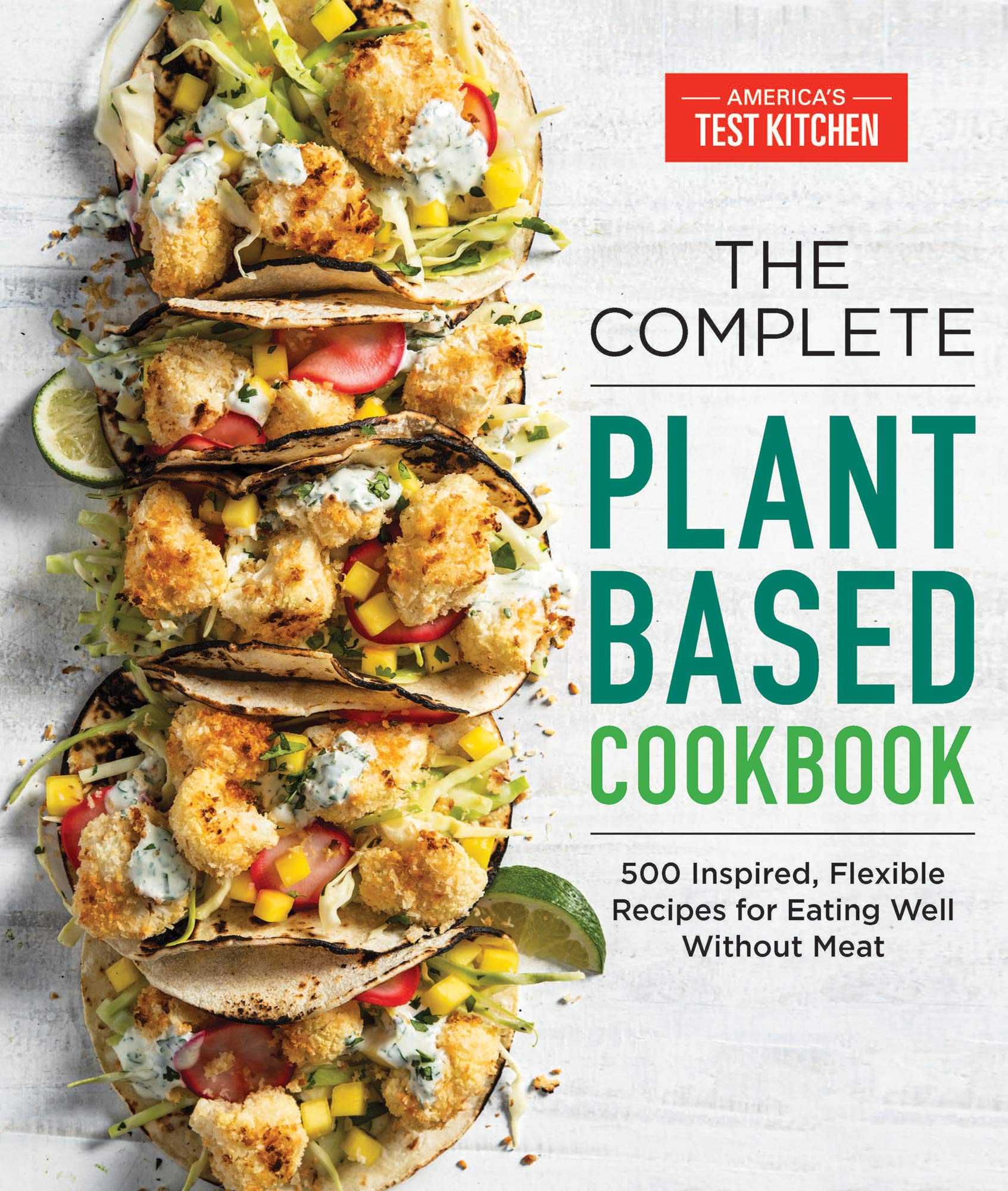 Another beautiful cookbook from America's Test Kitchen. This book is a perfect choice if you are still in transition from vegetarian to vegan and of course if your food choices are solely vegan. These foolproof dishes for every occasion can be made vegan or vegetarian to suit your own needs. 
The 500-plus unique recipes inspired by ethnic traditions from all over the world are vegan but flexible, easy to follow and budget-friendly. The multicultural cuisine gives an extra inspiration to your cooking and offers a wide range of preparation techniques. Easy to follow directions and simple ingredients gracefully turn into delicious meals.
This cookbook really covers everything, from sauces, sides, main dishes, snacks,…and all plant based to meet your nutritional needs.
#3 Ottolenghi Flavor
by Yotam Ottolenghi 
This book is a perfect choice for home cooks, who need some inspiration. The New York Times bestselling author of Plenty and Jerusalem joins with Ottolenghi Test Kitchen's Ixta Belfrage to show us just how flavor is created and enhanced through 100+ innovative, super-delicious, plant-based recipes.
The authors provide a next-level approach to vegetables that breaks down the fundamentals of cooking into three key elements: process, pairing, and produce. They show how easy techniques such as charring and infusing can change the way you think about cooking. We will discover how to unlock new depths of flavor by combining vegetables with sweetness, fat, acidity, or heat, and learn to identify the produce that has the natural ability to make dishes shine.
Get ready for Stuffed Eggplant in Curry and Coconut Dal, Spicy Mushroom Lasagne, and Romano Pepper Schnitzels and try this revolutionary approach to vegetable cooking.
#4 The Vegan Instant Pot Cookbook
Wholesome, Indulgent Plant-Based Recipes
By Nisha Vora
The creator of the popular cooking blog Rainbow Plan Life blog, Nisha Vora, created a new and vibrant vegan cookbook, with 90 nutritious recipes with vivid and colorful photos for more inspiration.  
Whether you already are a pressure cooker fan or you are ready to try it out, this book offers delicious everyday recipes you can make easily with the magic of an Instant Pot pressure cooker.
Nisha shares with us how to use the machina with all its functions and how to taste the rainbow with a full repertoire of vegan dishes. Maybe you will start the day with Nisha's Homemade Coconut Yogurt or Breakfast Enchilada Casserole, then move on to hearty mains like Miso Mushroom Risotto, or even decadent desserts including Double Fudge Chocolate Cake and Red Wine-Poached Pears. 
This book is truly as vivid and joyous as the title of her popular cooking blog–Rainbow Plant Life.The Vegan Instant Pot Cookbook will quickly become a go-to source of inspiration in your kitchen.
#5 Plant Over Processed
5 Simple & Delicious Plant-Based Recipes for Nourishing Your Body and Eating From the Earth
By Andrea Hannemann
A NATIONAL BESTSELLER with a 30-DAY PLANT OVER PROCESSED CHALLENGE
"Trust in nature. Believe in balance. Eat the rainbow!" Andrea Hannemann, aka Earthy Andy, with more than one million Instagram followers, presents a guide to plant-based eating that is simple, delicious, and fun. She believes that food is the fuel of life, and that consuming a nourishing, plant-based diet is the gateway to ultimate health. Her mantra, "plant over processed," embodies the way she eats and feeds her family.
In her book Plant Over Processed, Andy invites readers to join her on a "30-Day Plant Over Processed Challenge". The goal is to detox your body and switch on a long-term to plant based choices, without giving up your favourite dishes. Her recipes are truly mouth-watering, packed with gorgeous photos. The recipes go from smoothies and bliss bowls to plant-based comfort and decadent desserts—this life-changing guide shows you how easy it is to eat plant-based, wherever you are.
#6 Ultimate Veg
Easy & Delicious Meals for Everyone
By Jamie Oliver
NEW YORK TIMES BESTSELLER
We all know that Jamie Oliver is one of the bestselling cookbook authors of all time. And this time, he is back with brilliantly easy, delicious, and flavuor-packed vegetable recipes. From simple suppers and family favourites, to weekend dishes for sharing with friends. His recipes are pure and simple, as always. 
On top of that, each recipe includes a list of ingredients and a step by step tutorial from the chef. Also included for each recipe is a full colour photograph of the finished dish with expanded nutritional values. 
Super-tasty, brilliantly simple, but inventive veg dishes include:
· AMAZING VEGGIE CHILI, comforting black rice, zingy crunchy salsa and chili-rippled yogurt
· GREENS MAC 'N' CHEESE with leek, broccoli & spinach and a toasted almond topping
· VEGGIE PAD THAI, crispy fried eggs, special tamarind & tofu sauce and peanut sprinkle
· SUPER SPINACH PANCAKES with avocado, tomato and cottage cheese
· SUMMER TAGLIATELLE, basil & almond pesto, broken potatoes and delicate green veg
There is something tasty for every occasion. Simple tips and tricks will excite the taste buds and  give you the confidence to widen your recipe repertoire, safe in the knowledge that it'll taste utterly delicious. It will also leave you feeling full, satisfied and happy – and not missing meat from your plate.
"It's all about celebrating really good, tasty food that just happens to be meat-free." Jamie Oliver
#7 The Friendly vegan cookbook
By Tony Okamoto
Michelle and Toni are two of the most trusted figures in the online vegan community. Through their popular food blogs, videos, podcast, and cookbooks, the two have helped millions of people make living vegan easy, fun, and delicious. In their book they share 100 amazing and yummi recipes for satisfying meals, snacks, and treats, designed for both the veggie-curious and longtime vegans looking for a trusted recipe resource. 
Above that, they share directions for making your own staples—nut milks, dressings, pasta sauces, and breads. This book  is filled with meals that will become your new favorites and go-to staples for when you have meat-eaters to impress. Because amazing food should be shared.
#8 The Little Book of Vegan Bakes
Irresistible plant-based cakes and treats
By Holly Jade
And finally a vegan cookbook for everyone who has a sweet tooth. Learn how to bake show-stopping, mouth-watering, heart-warming, incredibly delicious vegan cakes and bakes at home. Holly-Jade is the creator of the award winning baking website- The Little Blog of Vegan.
Recipes range from the simple Chocolate Orange Fridge Fudge, Cookies and Cream Cupcakes  to the more ambitious Honeycomb Doughnuts, Cherry Bakewell Tartlets and No-bake Biscoff Cheesecake. This book is a must have, and shows just how easy and yummy vegan baking can be. Moreover, you get step by step guides to icing and decorating for your creativity. 
CONCLUSION
We tried to focus on 8 vegan cookbooks that we found most capturing. However, there are many more excellent vegan cook books on the market. Here are some additional suggestions for your research:
Dreena's Kind Kitchen: 100 Whole-Foods Vegan Recipes to Enjoy Every Day, by Drena Burton
Plant-Based on a Budget: Delicious Vegan Recipes for Under $30 a Week, in Less Than 30 Minutes a Meal, by Toni Okamoto
Nourish: The Definitive Plant-Based Nutrition Guide for Families–With Tips & Recipes for Bringing Health, Joy, & Connection to Your Dinner Table, by Reshma Shah M.D. M.P.H. 
Evolving Vegan: Deliciously Diverse Recipes from North America's Best Plant-Based Eateries–For Anyone Who Loves Food: A Cookbook, by Mena Massoud
Plant-Based Gourmet: Vegan Cuisine for the Home Chef, by Suzannah Gerber
Oh She Glows for Dinner: Nourishing Plant-based Meals to Keep You Glowing, by Angela Liddon
The Vegnews Guide to Being a Fabulous Vegan: Look Good, Feel Good & Do Good in 30 Days, by Jasmin Singer
The Colorful Family Table: Seasonal Plant-Based Recipes for the Whole Family, by Ilene Godofsky Moreno
The Plant-Based Diet for Beginners: 75 Delicious, Healthy Whole-Food Recipes, by Gabriel Miller