What is that one accessory that both men and women carry around? Guess what?
It carries money.
Yes, it's a wallet.
And it's something people have been carrying around to put their cash, business cards, debit, and credit cards. Here are some of the qualities of a wallet suited for both men and women.
Wallets are made of different materials, but most are made of leather, animal leather, and vegan wallets.
Best Vegan Wallets – Reviews & Buying guide for 2022
Best Men's Vegan Wallets: The Corkor Cork Wallet
This vegan men's wallets brand is manufactured in five assorted colors, and one texturized design – red, black, light brown, dark brown, blue, and a zebra textured appearance.
It is a minimalist piece with a stylish outlook and how it looks from the inside is even more impressive.
Billfold features
The Corkor wallet is created with cork fabric with a cotton interior lining. It is a bifold wallet that folds into two with card compartments on both sides. It has a total of six card slots, one big notes compartment, and two slip pockets.
One unit weighs 1.69 Oz. the cork material does not crack or crumble and works as a very effective alternative to leather. The Corkor is by far the best vegan bifold wallets.
How to take care of the wallet
To clean this piece, you need warm water, soft fabric, and mild washing liquid.
You simply wet the cloth with water and the soap and wipe off the surface of the cork. Please do not fill the note on this billfold with too many cards. It may lower its life span since you will be overstretching the piece.
Perks
The cork material is FSC certified, meaning the billfold is within the international guidelines of production.
The cork is harvested without harming the tree. Environmentalists find this very appealing.
It is a lightweight wallet that proffers the owner's exceptional service for the longest time.
The edges are coated in plastic, making the casing stay intact, which adds to its durability.
It is also a non-cruelty product.
Drawbacks
You cannot stuff the billfold with too many cards; otherwise, the wallet will not hold, and it will tear.
This wallet is best for
As the piece at the top of the five best vegan wallets, the Corkor wallet for men is the ideal pick for a minimalist guy and only stores what they find useful in their billfold. It will serve them the longest, plus they have six exterior designs to select from.
Runners Up: Access Denied VeganMen's Wallet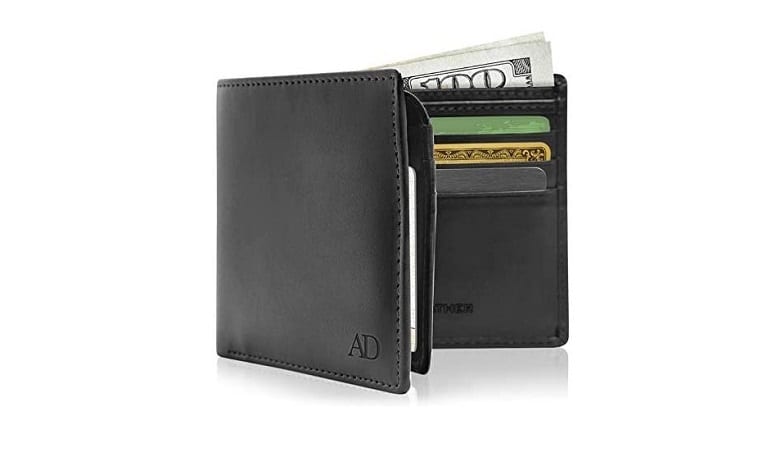 The Access Denied billfold is the runners-up mens vegan wallets obtainable in six textured motifs, and that is the smooth black version. There is carbon fiber texture, black crocodile texture, soft brown, soft navy blue, and a suede taupe.
Billfold features
The Access Denied is a wholly bifold cruelty-free billfold modeled of vegan faux leather. The billfolds are crafted by hand with a duo bill segment, nine card compartments, two slip notches, and one 1D window that you can place two passport pictures.
There is an RFID shielding tech ensuring that you safeguard the constituents of the pouch. It protects your data from being purloined through frequencies and blocks the frequencies that hackers use to get info from our cards.
How to take care of this wallet
You require a soft cloth, clean, warm water with a bit of mild detergent. When cleaning, you remove all the cards and cash. Then you simply wipe the wallet using the wet cloth and let it open to aerate and completely dry to avoid the moldy, damp smell.
Perks
The RFID security measure gives the owner peace of mind knowing their cards" data is sheltered from hackers.
The structure of this Access Denied Vegan men's wallet is systematic and appealing to the eye. It is sorted and efficient for one to reach what they require at arm's length.
Drawback
The interior stitching on some units was inadequate and tight, resulting in one forcing the removal or slipping in the bank cards.
This wallet is best for
The Access Denied is one of many vegan leather wallets with commendable features, but its RFID tech makes it standout.
It is quintessential for a gentleman who is always on the move and seriously holds his freedom of interference. This guy is also stylish and loves having all he needs in one spot.
Best Women's Vegan Wallets: Nautica Money Manager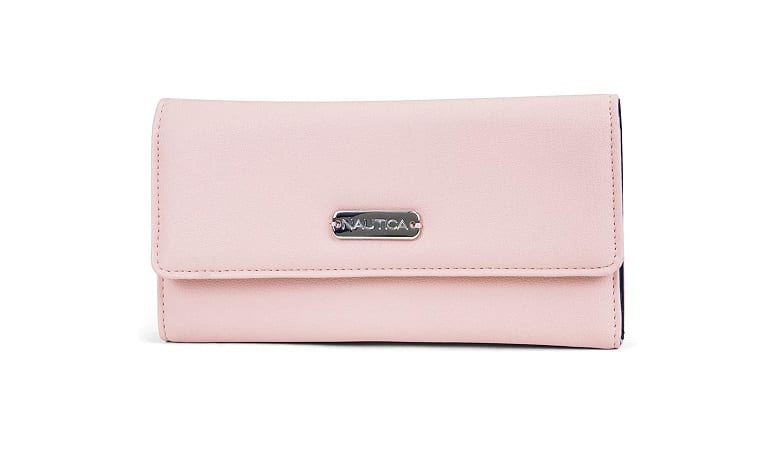 If you thought that wallets' discussion with technologically money storage units is done, then you are mistaken.
You are just getting started, and this winner women's vegan wallet is marking a debut on this list as the best. The Nautica Money manager has twelve different designs to select from.
Billfold features
The Nautica Money Manager is also an RFID shielding purse with faux leather that appears and identifies just like animal leather.
This womens vegan wallets for is a clutch style purse with a luxurious intramural with fourteen bank card nooks, two horizontal slots, and a picture partition that could snuggly fit two passport photos side by side.
But that is not all. It also has two extra zipper slots. You can securely store coins on one side and the other notes.
How to take care of this wallet
First of all, ensure you place a specific material in its designated pocket to ensure that none of the compartments is overstretched to tear. Secondly, always zip up the zips slowly and carefully do not clog with the surrounding area's fabric.
If it chokes and you force it, you may destroy the zip. Cleaning this piece, you use water, a soft cloth, and mildly soaped water.
Perks
The variety from this brand means that each lady will find one wallet from the collection that fits their personality and style.
The RFID blockage of the purse ensures that you stay clear from electronic pick-pockets.
The packing space is plentiful, making this purse economical and efficient for its price. You can place your notes, your checkbook, cards, and coins.
It is wholly vegan.
Drawback
The 1D window is not transparent but more of a mesh-like lookout.
This wallet is best for
This purse is the best vegan wallet for women that love to match their bags to their dressing.
Due to the availability of multiple designs, you can purchase two with different models, and each shall appear completely different. A lady who appreciates having everything she needs financially in a centralized location will find this Nautica Manager efficient.
Runners Up: UTO Women's Wallet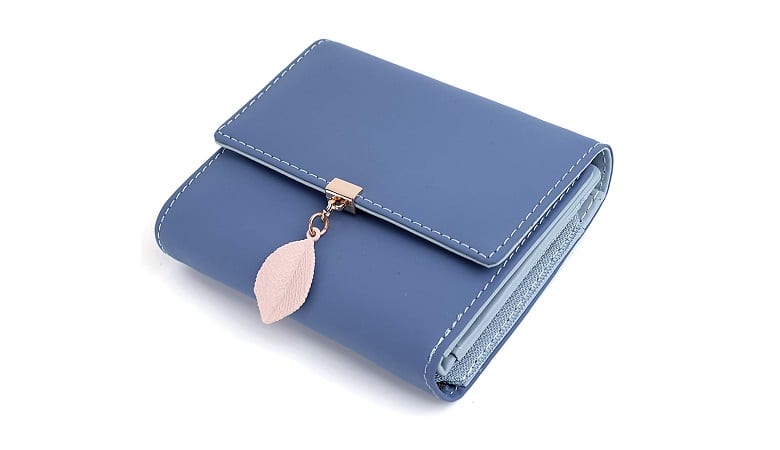 As a lady who likes having a small and still functional wallet, you will love the UTO vegan womens wallets with over forty different designs.
If you thought we had an array to select from the previous vegan womens wallet, this would definitely impress you. Ladies who love color and variety should then love reading this part.
The billfold features
The motif aspect is mind-blowing, and it will cost you quite a while to decide on one that suits your style, but you will, for sure, take a bit. This vegan wallet opens like a book in a tri-fold method, making it appear bigger once fully opened.
It has a smooth synthetic exterior with a finely detailed inside. The inside contains six card slots, one bill section, a zipper bag for your pennies, and a transparent compartment to place your ID photo.
How to take care of this wallet
To cleanse the billfold, you use a mild detergent mixed with water, and you wipe the purse exterior with a light and soft cloth that has been wet with a mixture of water and mild soap.
For everyday care, you should open and close the zipper gently and never overstaffed the wallet; otherwise, it will not close shut.
Perks
The variety is impressive.
The faux vegan leather is fade-resistant, meaning it stays in its artificial color for usage long after manufacture.
The stitching is smooth and seamless.
It is a tight-neat billfold, but it can accommodate plenty.
Its compactness makes it fit into small sling bags.
Drawback
One downside is that you will take a long time deciding which to pick since the selection window is expansive.
This wallet is best for
The UTO vegan women's wallet is the quintessential companion to a lady who loves having alternatives.
The broad array of billfolds to select from will match up any of your personalities, all occasions, and all fashions. For the selling price attached to this purse, indeed, it is one kind in any best vegan wallet's women's collection.
Alternative: Tree Tribe Clutch Wallet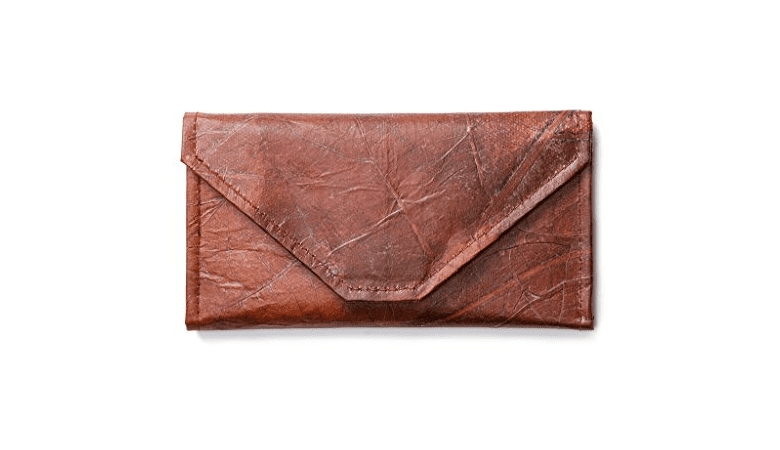 The Tree Tribe vegan wallets brand consists of six various kinds of clutch billfolds in this collection.
You have black, brown, natural, orange, red, and dramatic turquoise to select one that best fits your personality.
The billfold features
The leather material making the external covering is plant-based with a very distinct texture and mimics the authentic kind.
The leather originates from the teak leaves, and the patterns are an embroidery of nature's signature leaf patterns. The veins and the feel of the billfolds are distinct from purse to purse, so none of the bags are similar.
The teak leaf leather is coated with a thin transparent, non-toxic BOPP layer of lamination that preserves the original design's richness for a very long time. The inside is a layer of soft cotton lining divided into two-note pouches, seven-card segments, and one zipped coin pocket.
The bank card segments are big enough to house a checkbook. The closure is magnetic.
How to take care of this wallet
The Tree Tribe vegan wallets can be cleaned with diluted soapy water and wiped down with a soft cloth. After cleaning, you simply hang or leave open in open space to completely dry and aerate.
Perks
The rustic appearance of the clutch wallet matches with any outfit.
The unit is compact and houses all you need financially.
Taking care of the purse is manageable.
The syndicate has the initiative to plant trees where they use a percentage of the cash collected on sales to facilitate this movement.
Drawback
Overfilling this wallet will reduce its lifespan.
This wallet is best for
With the affordable price and the benefits it offers, this alternative women's vegan wallet is deserving of this position. It is perfect for any woman who likes having only the essentials of cash, a card, and a checkbook in her purse.
Facets of a Wallet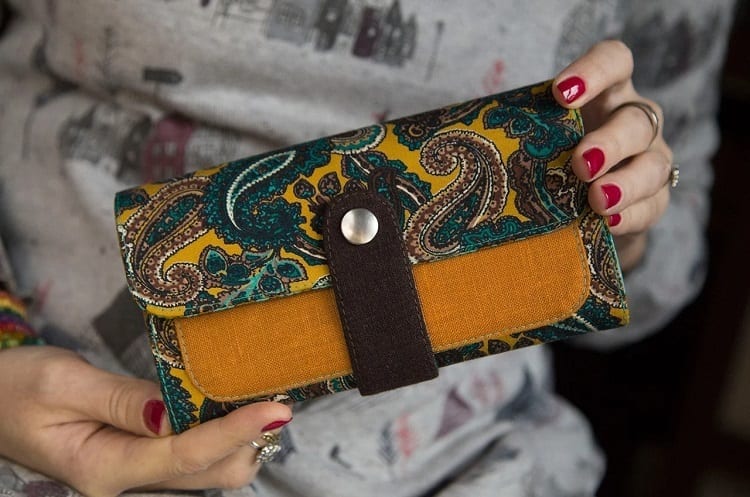 Compact and lightweight
Something that one is to carry around every day has to be compact and lightweight. Otherwise, most people will opt for other options. That said, a wallet must be close enough to hold cash and cards and still be light enough not to weigh you down.
Just imagine how inconvenient it would be carrying a wallet that is heavy and pulls down your pants. Would that be even practical?
It must have compartments
It would be best if you had sections to store all your cash and cards. A functional wallet must be segmented into pockets that allow you to safeguard your monetary assets well. Each compartment must be specially calibrated to fit the said kind of cash.
For instance, plastic money like cards have sideways pockets that allow you to put and remove the card quickly. There must be a compartment to store your coins, store business cards, and one for your notes.
It must be complimentary
A wallet is an everyday accessory, and for that reason, it must blend in and match with most of your outfits.
Women are more inclined to select the best vegan wallets with colorful hues and dynamic patterns, but men like the subtle tones and designs. Regardless, a wallet must be complementary and look nice when carried with whatever.
The material must have long-lasting permanence
You also want a wallet that will last you more than three years. As mentioned above, a wallet is an everyday accessory meant to take you a long while.
Most people rarely switch them up, and so the material that makes them must be long-lasting. And that is why the focal point is by defining the best vegan wallets, women's, and best vegan mens.
Today, the whole world's population is moving toward a vegan way to live. We have vegan cosmetics products, vegan supplements, and even vegan accessories. In this piece, it will focus on vegan wallets. And you may wonder what precisely vegan wallets are? Well, here is the definition of it.
Definition of a Vegan Wallet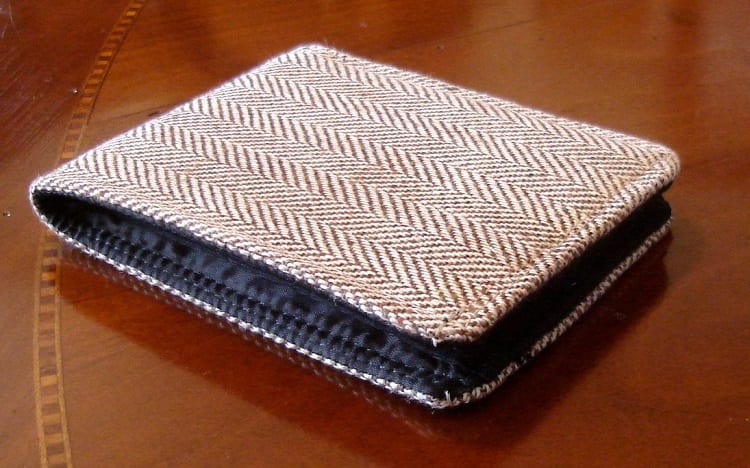 The word vegan right away tells you that any element making the accessory is plant-based, and nothing is extracted from animals. And since wallets are mainly made of leather, the leather is wholly from the flora kingdom.
They come from barks of trees, pineapple leaves, cork remains, fruit waste, or recycled plastic, among many more. Vegan leather is mostly polyurethane or high-quality microfibers.
Next, take an in-depth look at five of the best vegan wallets for both men and women with that definition in mind. But before we get into that, here are the significant differences between women's and men's wallets in general.
Designs
A woman can carry their wallets as an accessory on their own, and so they are available in multiple designs that are bigger than a typical wallet. Men's wallets mostly have one style, and that is the bi-fold type.
But some have the belt wallet, the tri-fold, the money clip, or the zippered wallet.
Women have all the above, plus the cell-phone wallet, the credit card holder, and the passport wallet, among others. A woman's wallet can be an incorporation of several kinds mentioned above, thus more complex.
Colors
Women are more into bright patterns and colors, and therefore, their intricate pieces will include the same.
Men will mostly go for browns, blacks, and sometimes navy blues to match their everyday attire.
Vegan Wallets FAQ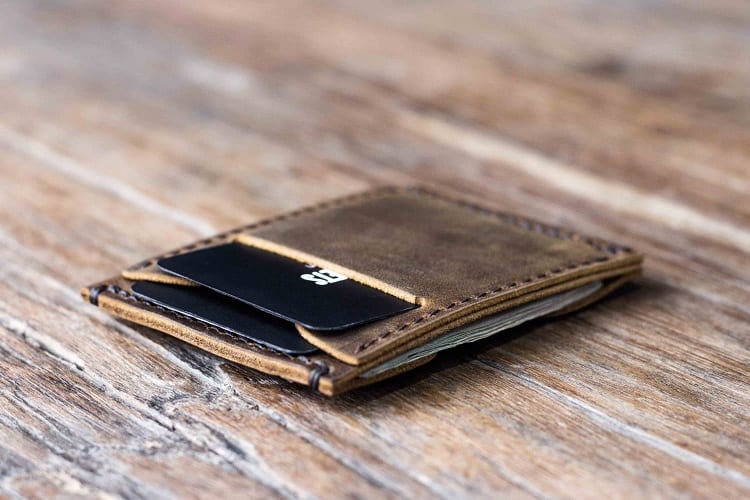 What is a vegan wallet?
A vegan wallet is a billfold used by both men and women, and the primary material making the wallet is originated from either plants or synthetic manufacture.
Any wallet that has been made using any animal leather is not categorized under vegan wallets.
Is vegan leather just plastic?
Not all vegan leather is plastic, as some of the leather was actual plants at some point. For instance, the Tree Tribe women's vegan wallet, made from the teak leaf, shows that not all vegan leather is plastic.
Faux and synthetic vegan leather are the types that can be categorized and termed as plastic. But not all vegan leather is plastic.
Does vegan leather crack?
Vegan leather will crack only if you expose it to harmful or corrosive chemicals or if you are over-stretching it.
But if you do not, then they will not break and last a very long time. On top of that, they withstand scratches pretty well and manage scrapes as well. However, if you take care of your vegan leather wallet, you will have no cracking or breaking issues.
Is Vegan Leather ethical?
Vegan leather is the ideal ethical type of leather out there, but that is just one side of it. First of all, vegan leather is extracted or harvested from plants or made in the lab, and no animal is used in the production, harvesting, nor testing of these products.
Secondly, plant-based vegan products are eco-friendly since they do not emit any harmful waste to the environment.
Thirdly, vegan leather created from plants and fruit waste is 100% biodegradable thus does not leave debris into the atmosphere. For these reasons, they can harm no life nor affect the environment making vegan leather ethical.
On the flip side, one would argue that since the faux vegan leather is produced using plastics, the people in the frontline of making these pieces are affected. The chemicals used may be harmful to both them and the environment.
Also, faux vegan leather wears out and does not biodegrade, meaning it gets dumped and ends up polluting the planet. And for those reasons, some experts term it unethical.
Where do you source vegan leather?
The vegan leather source will depend on the type you want to use to create the products. One source is fruits like pineapples, plants like the teak tree, and mushrooms providing a source of plant-based vegan leather.
The other source is from plastics like PVC, which is molded into a leathery fabric used to make synthetic faux vegan leather.
Conclusion
Vegan wallets and everything vegan is becoming quite the trend nowadays, and so if you like being trendy and staying current with the times, then this is your chance. As seen above, this article has talked about the best vegan wallets for men's selection and vegan wallets for women too.
Each had its winner and the following brands that offer just as good a service as the first. And so what you decide to go with is entirely up to you.
Therefore, if you want to get a gift for your loved ones from the men's vegan wallets collection, you have the best two to select from, and the same is for the women in your life.
Another person mustn't only give as benefaction; you can get yourself one too. There is nothing wrong with loving and gifting yourself. You totally deserve it.
---