If your parents have raised you as a vegan, they were hopefully well-informed enough to raise you on a balanced diet. If not, you have to do enough research to get all your food intake nutrients.
However, many vegans find that a good multivitamin makes up for a lack elsewhere.
Finding the right multivitamin for you may mean that you want one with iron or without iron. Either way, you probably still need the seven nutrients in a multivitamin that you lack in your diet.
This buying guide will evaluate the best vegan multivitamin to supplement your lifestyle.
Best Vegan Multivitamin – Reviews & Buying guide for 2022
BEST OVERALL: Deva Vegan Multivitamin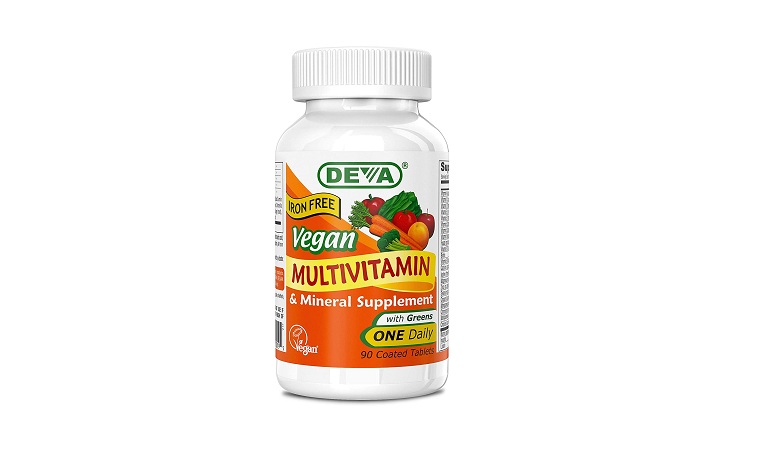 Deva makes one of the best vegan multivitamins, which includes minerals.
Supplementing a vegan diet also means that a multivitamin for vegans should be free of allergen-promoting ingredients.
Take one of these vitamin bombs daily to supplement your diet, achieve balanced nutrition and be full of energy.
Pros
The product does not contain iron, which is beneficial for some vegans.
This multivitamin contains no ingredients from animal sources and is GMO and soy-free.
Ingredients in this best vegan multivitamin for women and men consist of cellulose, vegetable stearic acid, croscarmellose sodium, silica, and vegetable magnesium stearate with a chlorophyll coating.
Deva makes sure that this multivitamin is suitable for anyone with allergens, and it is free of gluten, wheat, and artificial preservatives.
Superfoods and herbs such as parsley, ginger, chlorella, spirulina, and black cumin seeds are added to ensure a rich nutrition and energy source.
Additional supplements in this product include nutrition such as vitamin A, C, D2, E, B1, B2, B3, B6, Folic Acid, B12, Biotin, B5, calcium, iodine, magnesium, zinc, selenium, copper, manganese, chromium, molybdenum, boron, choline, and many more.
Take one tablet daily to get your dose of vital vitamins and minerals.
A few customers compliment the company on its integrity for its packaging, pricing, and ingredient quality, commenting that this brand cured their anemia and quickly resolved their vitamin D deficiency.
Deva is confident enough with their product to offer a 100% money-back guarantee or replacement if you are not completely happy with their best multivitamin for vegans.
Cons
This product is meant for adults and is not a vegan kids' multivitamin.
Customers complain that the tablets are huge, even when halved, making them difficult to take.
Some people complain that the taste of these vitamins is unpalatable.
Runner Up: Deva Multivitamin And Mineral Supplement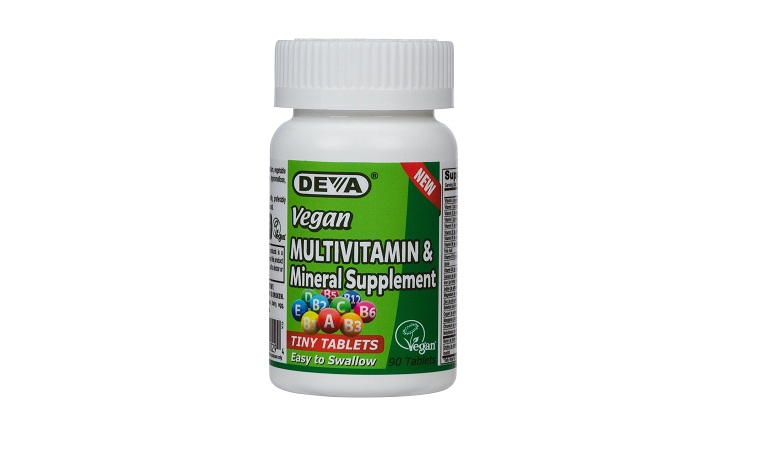 Deva understands that some customers want the best vegan multivitamin without iron, while others need a vegan multivitamin with iron.
Deva's tiny vitamin pills contain a small amount of 2% iron (Ferrous Fumarate) and free sugar and soy ingredients.
Vegans can take this multivitamin to supplement their diets to get all the nutritious energy they need throughout the day.
Pros
Tablets are small enough to swallow with ease, even for the most sensitive users.
A careful combination of vitamins and minerals will boost your immunity, support urinary tract health, increase energy, and enhance your mood.
Users can expect potential vision improvements, nervous system support, increased stamina, and general wellbeing.
The ingredient formulation also supports male health.
They are filled with antioxidants to help combat disease.
GMO-free, yeast and salt, and free of gluten.
Made in the U.S.A.
Cons
One customer says that a multivitamin free of copper is essential due to an overload of this ingredient in her diet.
According to one customer, Vitamin forms in this product are not easily absorbed.
Some vitamin content is lower than the recommended dose, which is easily correctable by taking more tablets daily.
Alternative: Doctor's Best Multivitamin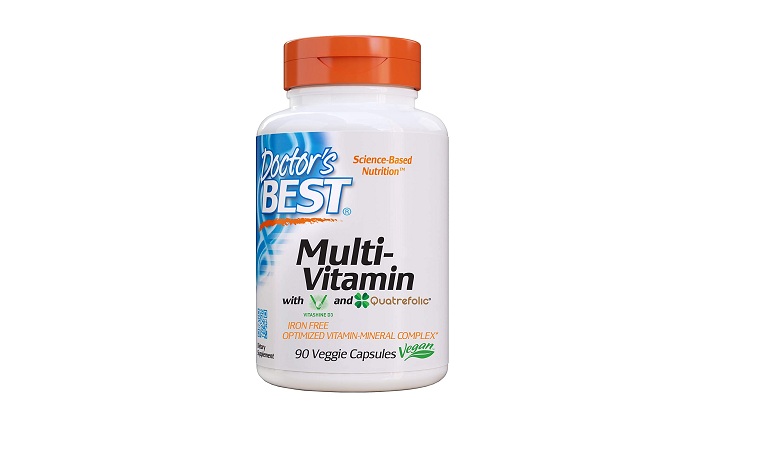 Doctor's best multivitamin is the best vegan multivitamin for anyone who needs to boost their diet with extra nutrition. This multivitamin is a rich source of easily absorbable vitamins and nutrients in veggie capsules.
This product is also the best multivitamin for vegan athletes if they are highly active. Take your health up a notch with Doctor's Best Multivitamin if you're vegan and in need of some dietary help.
Pros
The optimum formulation for improved absorption lessens waste and improves efficacy.
It contains various vitamins, minerals, and antioxidants to enhance performance.
Free of gluten and is the best vegan multivitamin without iron.
Boosts metabolism, cell and tissue maintenance, and renewal.
Best vegan multivitamin for women and men.
Cons
It does not specify that it is soy-free, free of sugars, or other allergens besides gluten.
It contains titanium dioxide, which may be carcinogenic, but there is insufficient research to prove this either way.
One customer remark maintains that some ingredients such as vitamin B12 are far above recommendations and a marketing tactic.
Another customer states that the folic acid is synthetic and that the original folate should be used instead of this substitute which can cause a negative response.
BEST FOR MEN: NATURELO Whole Food Multivitamin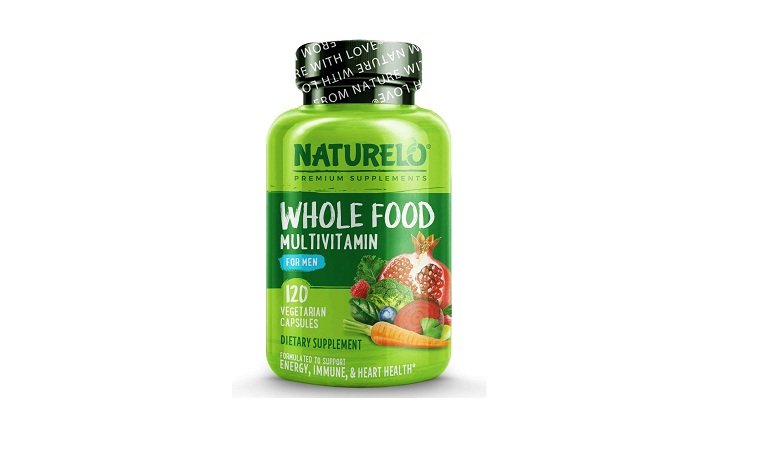 NATURELO is a whole food multivitamin that has been specially formulated for men under 50. This product contains a range of organic herbs, vitamins, and minerals that support male health.
This best vegan multivitamin is recommended for improving brain, heart, and eye health and as an energy booster.
You can purchase this product because it is one of the best organic vegan multivitamins for men on the market.
Pros
It contains all-natural ingredients that are fit for vegan consumption.
Free of soy, gluten, and animal products such as eggs, dairy, and gelatin.
Ingredients focus on bioavailability for superior absorption to promote health and reduce wastage.
Whole foods go into the manufacture of this multivitamin for vegans to ensure optimum absorption and your body's recognition of natural substances.
Expect superfood antioxidants from organic food sources such as turmeric, ginger, lutein, maca, grapeseed, ginger, ginseng, and green tea for an extra healthy edge.
This best vegan multivitamin goes the extra mile to include probiotics and enzymes to support gut health.
NATURELO claims this multivitamin is safe for use for anyone with IBS/SIBO.
Customer comments suggest that this is the best vegan multivitamin for athletes.
NATURELO does not add synthetic dyes to maintain the yellow color consistency between batches, preferring to rely on various turmeric harvests' organic outcomes throughout the year.
Cons
Customers report inconsistent digestive results following this product's use from different batches.
Some customers also report that the tablets are yellow or white, which seems inconsistent with the pros of different turmeric sources producing various shades of yellow between batches.
Other comments question package and content quality, especially since it is questionable that the green tablets advertised turn out to be white in some batches. This color variation also seems strange given the plant ingredients in this multivitamin.
BEST FOR WOMEN: SmartyPants Daily Multivitamin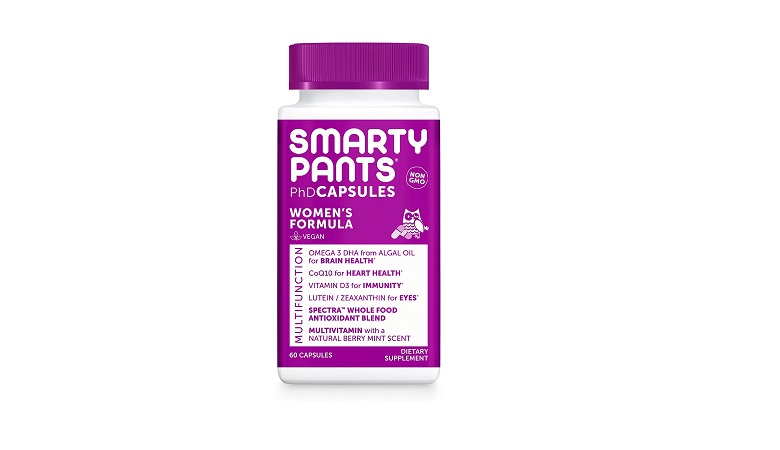 SmartyPants is possibly the best multivitamin for vegan women as it caters specifically to their nutritional requirements.
Women can expect high quantities of vitamins C, D, D3, B12, COQ10, folate, lutein, iodine, omega 3 DHA, and many more nutrients from this best vegan multivitamin.
Pros
Easy to swallow vegan capsules that support eye, brain, and heart health while boosting energy levels.
Customers can trust that all the ingredients are non-GMO, are free of sugar, gelatin, wheat, artificial coloring, and sweeteners, and contains no soy or tree nut ingredients.
Antioxidants in the form of top-quality vegetable extracts, concentrates, herbs, and fruits fight free radicals to boost your immune system.
It is certified as a clean label multivitamin that has been thoroughly tested for potency and purity by an independent laboratory.
Whole foods are used to produce this multivitamin, ensuring excellent absorption.
After taking this best multivitamin for vegan women for several months, one customer reports exceptional health benefits. Her memory improved, depression decreased, as did cold sores and food cravings. Her energy also picked up, although this customer added that she was taking a vegan iron supplement together with this multivitamin.
Cons
Packaging may vary, which causes concern for some consumers.
Excess B6 content may cause toxicity for some users. One customer noticed muscle pains and weakness and complained of tingling before having this fact confirmed by a medical professional. Reducing your intake can help avoid this problem if you are sensitive to B6.
It can promote fertility which may be a good or bad thing depending on your plans.
The seller refused to refund a bad product ordered by one customer who said the color and odor were unpleasant.
Vegan Multivitamin FAQs
Many consumers want to switch to a vegan lifestyle or already have but find it challenging to source an excellent organic vegan multivitamin.
Our FAQs section seeks to answer questions about the best vegan multivitamin, what customers should look for in a supplement, and general questions about product quality.
Many people also want to know whether the vegan diet is as beneficial as some claim it to be or what vegans should eat daily. Read on to learn about vegan multivitamins and which are recommended to support this dietary choice.
Is there a multivitamin for vegans?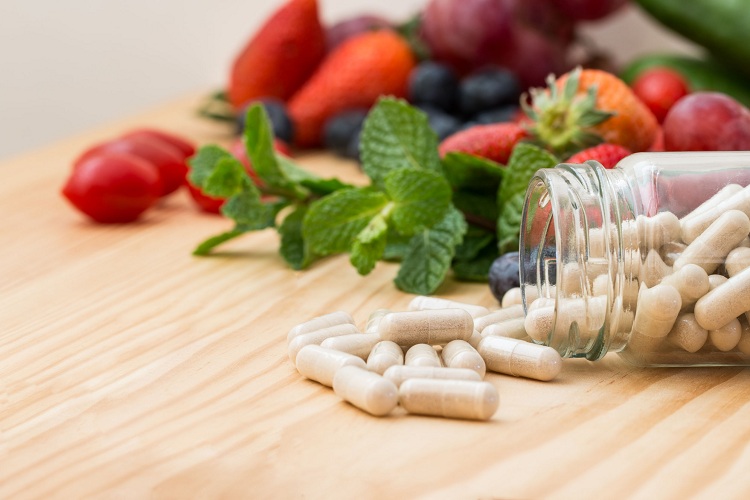 There are many multivitamins for vegans. You can even purchase vegan kids' multivitamins or find the best vegan multivitamin for athletes.
The world has progressed far enough to cater to the vegan market, and even non-vegans are choosing cruelty-free products to improve their health and the environment.
Other than the multivitamins selected for our buying guide, there are many others for vegans to choose. Examine this list of 15 multivitamins for vegans to support your healthful philosophy:
Dosely offers the best vegan multivitamin for women and men. This supplement contains no more than the daily recommended daily dose. Its packaging is also geared toward ensuring you don't take more supplements than necessary.
Future Kind's Essential Vegan Multivitamin provides extra nutrition to support the vegan lifestyle (D3, B12, Omega-3).
NOW manufactures a multivitamin, Multi-Food, which caters to vegan micronutrient needs.
MyKind Organics' multivitamins contain no synthetic ingredients and are certified to be non-GMO and organic.
Get all seven essential vitamins from Hippo7, including Omega-3 from ocean algae, vitamin D from lichen, and B12, together with zinc, iron, iodine, and calcium.
Deva's multivitamin and mineral supplement enjoy the Vegan Society's support, and the Society has registered it as being fit for vegans. This product contains a rich selection of vitamins, minerals, and micronutrients to boost health.
Abundant Earth Labs gives you a wide selection of whole food multivitamins that are also good for your digestion. This company provides a range of organic vegan multivitamins to help you live your best life.
Amazon Elements now offers customers a product line consisting of many vegan vitamins and multivitamins for men and women.
Mary Ruth produces a liquid multivitamin supplement that is vegan certified in a delicious raspberry flavor.
Yuve is certified by PETA, and you can purchase their liquid multivitamin in cranberry and black cherry flavor to meet all your micronutrient needs.
Genshai Farm Vitamins offers men and women a multivitamin that is entirely free of animal products, which will boost your energy and fill in any dietary gaps.
Wholier uses glass containers and packaging that is natural enough to recycle in your compost heap. These benefits are a welcome addition to their natural plant-based vitamin to support a healthy lifestyle.
Country Life is another multivitamin for vegans that is reputable. This supplement does not contain iron and uses a rich diversity of greens and other plants to enhance your vegan diet.
What vitamins are recommended for vegans?
Vegans can consume a balanced diet and receive all their vitamins and minerals from plants. Unfortunately, not everyone eats the right foods to get the vitamins they need, which they would otherwise obtain from animal products.
Vitamin B12, for example, is one of the vitamins that people often get from eating animal products and byproducts.
Because of diets that are low in some nutrients, people often choose to supplement their intake with an organic vegan multivitamin.
You can learn about the most common vegan supplements in this article and why they are recommended.
#1 Vitamin B-12
Vegans often have a B12 shortage necessary for protein metabolization, healthy red blood cells and nervous system, and other vital functions.
People process and absorb vitamin B12 differently, so it is essential to obtain this nutrient through as many food forms or supplements as possible.
#2 Vitamin D
Everyone needs good doses of vitamin D because it is essential for immune system functionality, improves absorption of nutrients, and aids with mood regulation.
Sitting in the sun daily for 20 minutes is beneficial, but the best vegan multivitamin is vital for balance when this is impossible.
Vegans can obtain minimal amounts of this nutrient from food, but this is usually inadequate, forcing them to take a supplement.
#3 Vitamin K-2
Vegans obtain vitamin K1 from leafy green plants, but vitamin K2 is more difficult to source from botanicals. K2 is necessary to heal wounds and to clot blood.
Eating fermented foods helps absorb this vitamin, but a supplement is often imperative despite the gut transforming K1 into K2.
#4 Omega-3 fatty acids
Omega 3 is vital for nervous system health, reducing cardiac disease, dementia, Alzheimer's, and rheumatoid arthritis, among other conditions.
This nutrient further aids in preventing or limiting the risk of depression, gut problems, cystic fibrosis, and allergies.
Even though the body can naturally convert some fatty acids, ALA is vital to do so and comes from external food sources.
ALA is obtainable from flaxseed, but vegans often need extra help from supplements to acquire this supplement.
#5 Iodine
Iodine support thyroid health, and vegans can meet their daily needs from plants such as seaweed or iodized salt. If vegans don't consume the right foods, once again, a supplement becomes necessary to consume this nutrient.
#6 Iron
Iron is necessary to enable the body to produce healthy blood cells and transport oxygen around the body.
Nonheme iron is present in many plants that vegans consume plenty of iron from whole grains, legumes, dark leafy vegetables, and fortified food sources.
However, consuming the correct amount of iron daily can be tricky as people can eat too little or too much food containing iron. This is why vegan multivitamins with iron and without iron are available for vegans.
#7 Calcium
Vegans should take vitamin D to absorb sufficient calcium as calcium is another mineral they often lack. Calcium builds bones, teeth and is vital for muscle health, including the heart.
While many green leaf plants are rich in vitamins, vegans consider getting enough of this nutrient from a supplement.
#8 Zinc
Zinc does not occur naturally in plants in sufficient quantities. This mineral supports the immune system and metabolism.
Phytates in plants such as legumes and cereals negatively impact zinc absorption, making it essential for vegans to acquire this nutrient through supplementation.
Is it healthier to be vegan?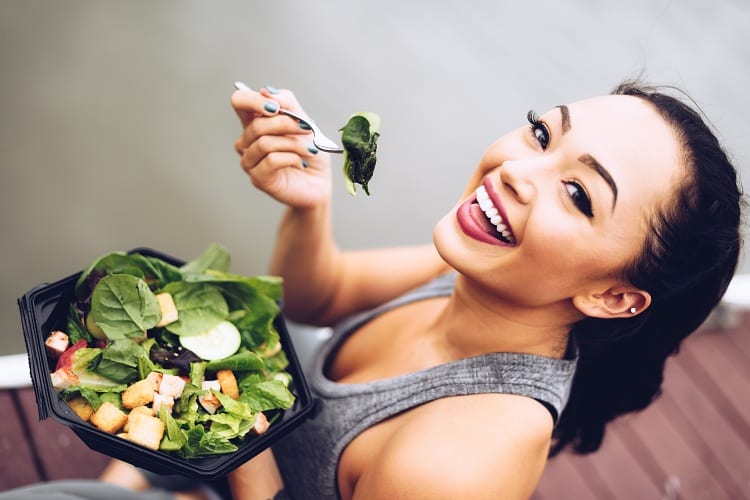 People are fast switching to a vegan diet and lifestyle because the modern diet of meat, insufficient nutrients from vegetables and fruit, too many carbohydrates, and processed foods are causing chronic diseases.
Also, the vegan philosophy encompasses a non-cruelty approach to animals.
Therefore, the vegan diet is healthier than the contemporary diet because it supports digestion. Digestion is vital to health as the gut microbiome signals the brain, which signals the nervous system.
When foods don't support digestion and nutrition, health breaks down.
A plant-based diet also consists of less salt, calcium, protein, and cholesterol than one which includes animal proteins.
As seen earlier, though, vegans sacrifice nutrients that are contained in meat, dairy, and eggs which they must get from plants or supplements.
FOR EXAMPLE, a B12 deficiency can be dangerous, so accessing this nutrient through the best vegan multivitamins is critical for health.
Other nutrient shortages such as K2 and vitamin D are prevalent, along with minerals like zinc and calcium.
Vegans might have a lower risk of heart disease due to potential vitamin B12 shortages, but their risk of developing strokes is higher.
Nutritional yeast, fortified foods, and supplements are excellent sources of B12, together with milk from plant-based foods, so this problem is easy to resolve.
Likewise, soy milk is a rich source of vital proteins for vegans, and supplements can provide enough iron when there is a dietary imbalance.
Vegans who vary their diets and consume enough vegetables, fruits, legumes, and grains inadequate variety are healthier than their meat-eating counterparts. Scientific studies support this fact.
A problem arises when vegans supplant processed foods and foods high in sugar for fresh vegetables and fruits, as this behavior negates the benefits of a proper vegan diet.
For the vegan diet to be truly healthier than that of omnivores, they should also avoid smoking and live a conscious lifestyle.
Poor lifestyle habits impact health negatively no matter the diet you follow, so this must be considered when promoting veganism as healthier than other diets.
While vegans demonstrate better health in many areas, they also show poorer health in bone density and are prone to fractures. Vegans also suffer less from high cholesterol levels and high blood pressure, contributing to heart disease.
More research must be done to understand to what extent the vegan diet is healthier than others. Overall, if you consume the right foods and obtain sufficient nutrition from a balanced lifestyle, you will be healthier.
Vegans can be as unhealthy as meat-eaters if they don't get this balance right.
What should Vegans eat every day?
Most vegans begin with using the plate method to eat a balanced diet. The plate method is familiar across many countries and has been adapted for vegans for this purpose.
These are the foods that vegans should consume daily:
Five servings of a variety of raw and cooked vegetables daily (1/2 to 1 cup x 5 depending on the vegetable's volume and density). Half a cup can be fruit juice, and vegans should consume a cup of green leafy vegetables as part of the five servings.
Four fruit servings daily consisting of a medium fruit such as a banana, orange, or apple; ½ cup of water-based fruits such as cantaloupe, watermelon, or pineapple; ¼ cup of dried fruits. Again, variety is key to consuming a range of nutrients from different fruits, including berries.
Three servings of legumes daily. A half-cup of cooked tofu, tempeh, lentils, beans, of peas translates to one serving. A quarter cup of peanuts is another, so a vegan can add variety to their diets with legumes and consume sufficient nutrients in the process.
Three wholegrain servings every day include a ½ cup of quinoa, rice, or pasta: 1 slice of bread and ½ cup of corn. Wholegrains such as rolled oats, ground flour, puffed millet, flaked cereal, shredded wheat, intact quinoa or brown rice, and broken bulgur are recommended. If you are allergic to gluten, source gluten-free products to replace these suggestions.
One cup of nuts and seeds every day can be a ¼ cup of nuts and seeds and 2 Tbs. of seed or nut butter.
Use the plating method to help guide the consumption of a balanced vegan diet. Supplement this with the best vegan multivitamin if you have any concerns about consuming the correct nutritional food quantities for optimum health.
Conclusion
Vegans are prone to developing nutritional deficiencies. Purchasing the best vegan multivitamin will help reduce the risk of such shortcomings.
Additionally, vegans need to extend healthy eating habits to avoid processed and other junk foods to benefit from their diets.
Engaging in regular exercise is also vital to support a healthy vegan lifestyle that promotes health and longevity. One without the other is not much better than an omnivorous, sedentary lifestyle.
Resources:
---